About The Grand Master

Grand Master Orlando Vega was born in Ponce, Puerto Rico. He comes from a humble family with a low income. His parents taught good moral and Christian values on how to live and survive. He had sincere motivation in the early years of his life to pursue a degree in college. In 1971, he applied for college without any economical resources. He applied for a student loan and his dream in life started from there. He pursued higher education from the Catholic University of Ponce, Puerto Rico, majoring in Science and Mathematics and a minor in Physical Education and Spanish History. Upon graduation he began teaching physical education to junior and high school students.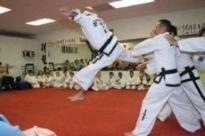 With time, he became exceptional as an instructor and changed his efforts in teaching physical education to mentally handicapped and physically impaired men and women. He has been involved in martial arts for over thirty-eight years. He began learning Kempo Karate with Sensei Felix Vega from New York. He studied under Sensei Vega for two years. In 1971 he began in Tae Kwon-Do under Grand Master Danny Ortiz at the YMCA in Ponce, Puerto Rico. At the same time he began in Judo under Dr. Ricardo Paranos. He began practicing both martial arts at the same time and achieved his black belt in 1976.



He was the president of the Catholic University Judo Club and earned a gold medal in 1974 during the inter-college games (LAI) in the 139 pound division. In 1976 he decided to move on and looked for more knowledge in Taekwon-Do. In 1977 he started practicing with the International Taekwon-Do Federation under the Young Brothers and his president Grand Master Young IL Kong and the president in the Island, Grand Master Benny Rivera. From 1979 to 1984, Grand Master Vega was acting as the vice-president for the Young Brothers I.T.F. in Puerto Rico. He led Puerto Rico's Taekwon-Do team from 1974 – 1986 in national, international and world championships. He represented the Taekwon-Do team eighteen times in international events, and won first place twelve times. From there, he won eight times as a Grand Champion in the heavy weight division amazingly weighing only 140 pounds. He was also a winner in breaking techniques and patterns or forms. He represents Puerto Rico in Venezuela, United States, Canada, Scotland, Virgin Islands, Domican Republic, Guatemala and Puerto Rico. In 1984 he was the Puerto Rico team coach in the World Championship in Scotland. The Puerto Rico team won third place in the world. In 1983 he received from his city mayor, an award of "The Best Athlete in Taekwon-Do".



In 1986 he decided to join to the United States Navy. As a service member of the U.S. Navy he became an exceptional Instructor on board the USS Theodore Roosevelt (CVN-71). Over three hundred U.S. Navy and Marines participated in his program. He created the Teddy Roosevelt Taekwon-Do team. He also served in Desert Storm in 1991 in the liberation of Kuwait.

Today, Grand Master Vega holds a 9th Dan with GM Jong Soo Park, 8th Dan with the Unified International Taekwon-Do Federation, 7th Dan with the International Taekwon-do Federation, 6th Dan in O.S.C. Ho Sin Sool (Street Self Defense), 5th Dan in Korean Hapkido, 5th Dan in World Taekwon-Do Federation, 4th Dan in O.S.C. Mu Ki-Do (Korean weapons) and a Black Belt in Judo. He is the founder and president of the Oriental Sports Center Association and holds the title of President of the International Taekwon-do Federation of the Americas.